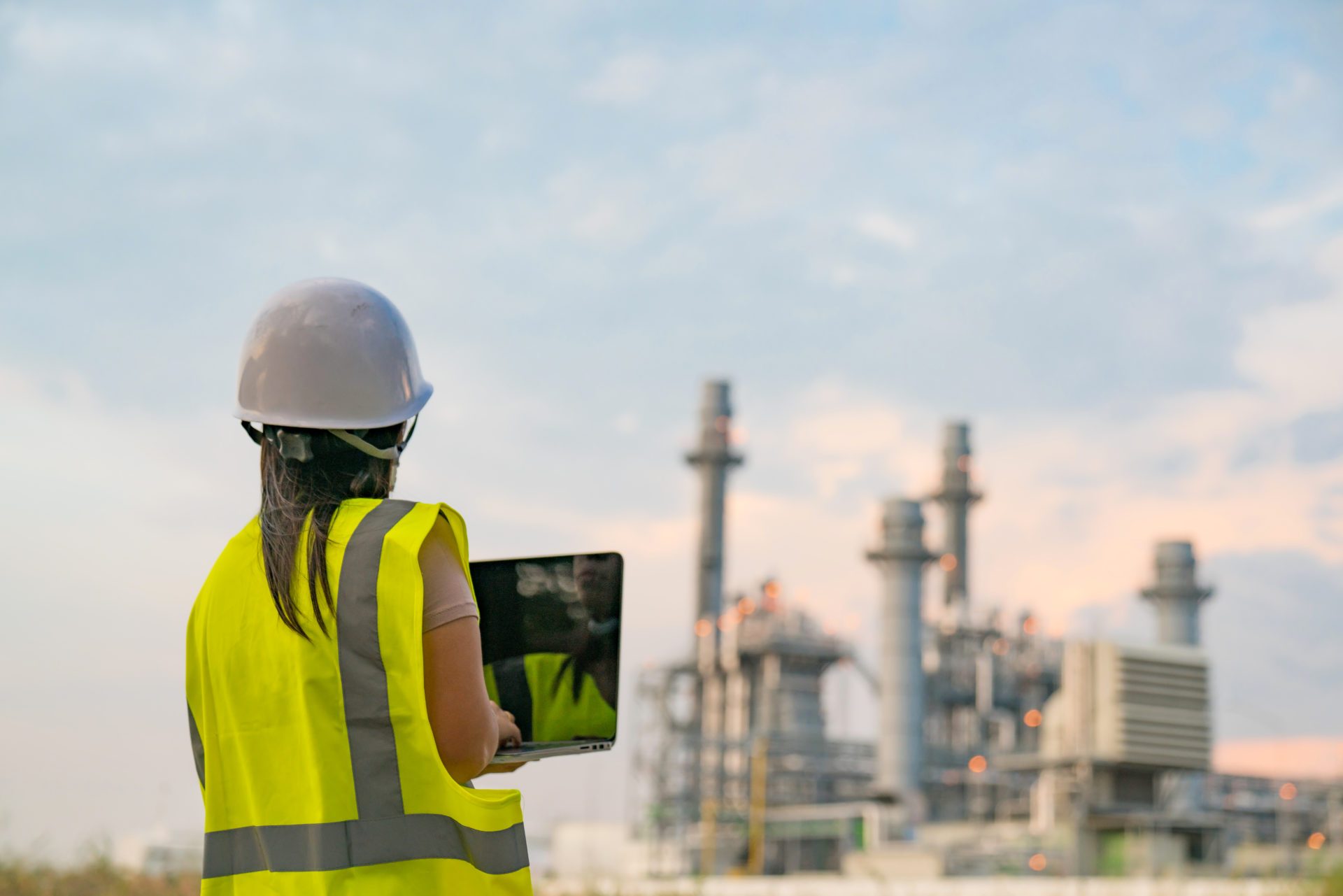 The last years have seen a growing number of businesses that were able to at least partly shift their business model from selling a product to selling a service. "Anything-as-a-service", or XaaS – as this trend is often called – offers several advantages for customers- such as lower initial investment, predictable costs, zero hassle with maintenance of the product purchased, as well as for suppliers – like higher margins through additional selling of value-added services in the service package (e.g. insurance or maintenance), scale effects, and customer lock-in.
Servitization has been broadly adopted in the "bits & bytes" industries, such as the IT industry, media, and telecommunications: the Microsoft office automation package nowadays is mostly sold in its cloud-based, monthly-licensed version called Office 365; Spotify and Netflix sell services in form of access to their entire portfolio for a fixed monthly fee, and so do most telecoms with their mobile or landline networks. Traditional "brick & mortar" businesses are increasingly adopting XaaS, too: for example, "mobility as a service" is already challenging traditional business models in the car industry, "container as a service" in the logistics industry, and "utilities as a service" in the industrial gases industry.
So: what about the chemical industry?  There are three important questions, in fact – that I think need to be investigated:
(1) Does this approach have the potential to extensively work for the chemical industry, too, and – if so – in which cases ?
(2) How can digital and smart technologies help chemical companies to shift to a service-based business model? And
(3) What should chemical companies consider to maximize the chances of success in this shift?
In the following paragraphs I will give you my view on these questions.
Read also [Download not found]
Chemicals as a Service (CaaS):  not such a new idea (that hasn´t tipped-off so far, though)
Also in chemicals, like in some of the above mentioned industries, CaaS is not new and it has been been explored in depth already, often in the form of chemical management services (e.g. the offerings of some big players like Dow, Quaker, PPG, or BASF who takeover most/all activities around chemicals for some customers, from application development according to customer requirements, to logistics, process development, chemical application, and waste management) or chemicals leasing (e.g. the lease of solvents to dry-cleaning companies that started in the 1990s as a result of regulatory pressure). In the 2000s the United Nations Industrial Development Organization (UNIDO) even started an initiative to increase sustainability and environmental care and incentivize a more economical usage of chemicals by delivering chemical services instead of just selling more volumes, under the name Global Chemical Leasing Program. XaaS – or rather CaaS, as we should call it – is very interesting for chemical manufacturers and customers as it offers almost all the advantages that I have already mentioned above for the other industries also to the chemical industry.  The most important part of chemicals servitization is the possibility to create a customer lock-in through contractual and / or technical mechanisms and – through it – to stabilize physical supply streams and keep competitive pressure low: an ideal situation, if we consider that most chemical companies have to cope with growing competition, accelerating commoditization, and the volatility of both the feedstocks and the end markets.
According to academia (Kortman et al,, 2006; Bierma and Waterstraat, 2000), the speciality chemicals segment has been the driving force behind most CaaS programs – main reason being the high margins of such chemicals and the higher level of expertise required to optimise their use – while consumer chemicals and base chemicals – with the exception of industrial gases and fertilisers – would not offer major opportunities.
However, even if we just limit ourselves to the specialty chemicals segment, we don´t really see a broad adoption of CaaS out there: why do we have only a few successful cases carried out by chemical companies? Why hasn´t this idea tipped off in chemicals so far?
I believe that one major reason is the asymmetry of knowledge and control between chemical supplier and customer in relation to the service offered / purchased. Let me explain: the chemicals new business model CaaS only works if it offers an economic advantage compared to the traditional model. This can only materialize if the supplier – that in the CaaS model becomes responsible for the use of the chemicals at the customer´s premises –  can use the chemicals in a way that is more economically viable than the customer. This, in turn, is only possible if the supplier has a better knowledge and/or control of the used chemicals in the customer´s process. A good example is AkzoNobel´s, that claimed savings of 25% in gas costs at one customer as a result of a coating formulation change they proposed that allowed to reduce oven temperature (for details, see here).
Unfortunately, CaaS does not turn always as successful, given the difficulty for the supplier to "know and control the customer´s process better than the customer". Only if processes are sufficiently standardized – i.e. the supplier can build upon the process knowledge collected at many customers to service an additional customer – and sufficiently connected – i.e. the supplier can measure and control the performance of a customer´s process reliably, without depending upon the customer´s staff – the service model has a chance to work well and ramp-up.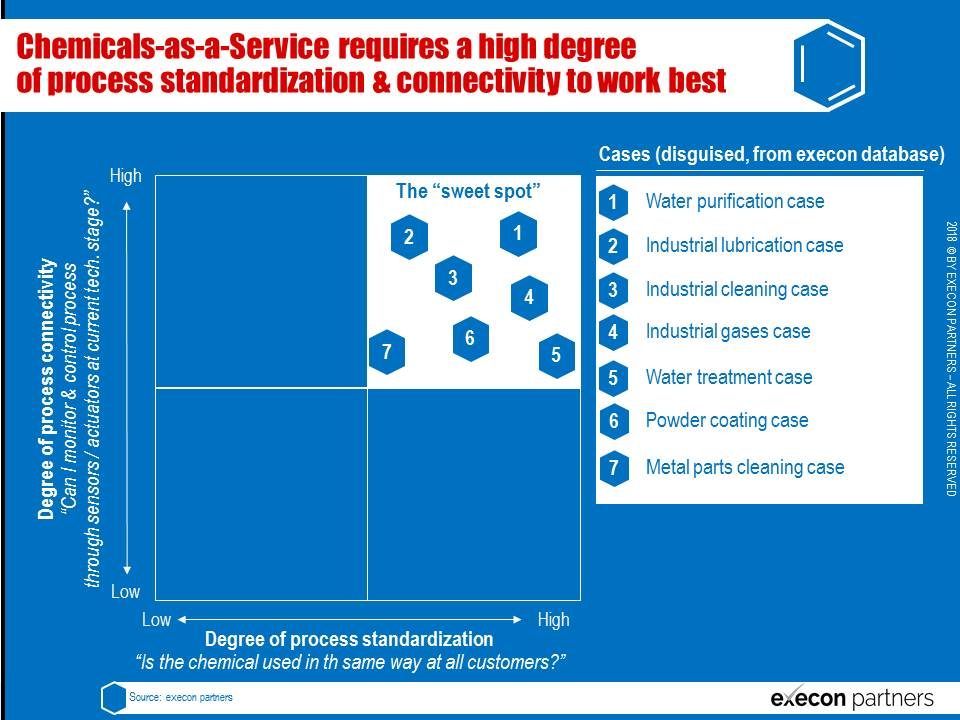 Read also [Download not found]
Digital and smart technologies can help  – but not always
Let´s start from the connectivity challenge, as this is mostly dependant upon technology and here is where digital and smart technologies come into play. Two families thereof, in particular, can make the difference:
The first one are sensors and actuators, that allow a supplier to monitor relevant process parameters and automate / control chemicals flows within a process.  The level of their precision, variety, connectivity, and modularity went constantly up in the last years, while unit costs went down. If 20 years ago it was necessary to undertake a major turnaround to upgrade existing chemical equipment, many functionalities can nowadays simply be "retrofitted" with off-the-shelf sensors and actuators.
The second are big data, predictive analytics, and machine/deep learning, that allow a supplier to distillate and consolidate knowledge about his customers´s processes. These thechnologies are now able to digitally represent a chemical process through its key variables and indicate ways to optimize parameters and input materials.
The number of successful pilot cases in chemicals and other process industries does not leave doubts: these technologies are definitely ripe already now to overcome the connectivity challenge almost in any case.
Still, this is not enough to make CaaS work in every case, as we need to consider the second challenge – process standardization. As said, a certain degree of standardization is necessary for a supplier to leverage scale effects with its customers: by reusing process knowledge for chemicals use, but also to adopt same technologies to takeover control of a process, or same approaches to maintenance, logistics, pricing, etc.). Here things become more complicated, as we have chemical processes that are fairly similar across all businesses and applications (e.g. purifying water),and chemical processes that are very specific to a certain application / business . For a supplier, the costs associated to tailor every time its service offering to a different process would in most cases offset the benefits. In a nutshell: digital and smart technologies can help boosting CaaS, but each case needs to be investigated specifically.
What should chemical companies consider to maximize the chances of success of chemicals as a Service?
There are four things I recommend to consider when introducing a new business model like CaaS:
Go through a solid feasibility analysis: does chemicals new business model CaaS have chances of success at least on paper? Concretely this implies an evaluation of the opportunities for connetivity and standardization, as well as a robust financial scenario modeling.
Have a "start-up-like" mindset: the endeavor of introducing a new business model is more similar to a start-up than to a classical corporate project. Thinking out of the box like an entrepreneur – even if this implies cannibalizing your own products – is a pre-condition for success. Sponsors of the project should role-model on this and state it very clearly from the beginning. I also believe that refreshing design thinking and its three criteria for successful innovation (desirability, feasibility, and economic viability) helps a great deal not getting lost in the woods of creativity.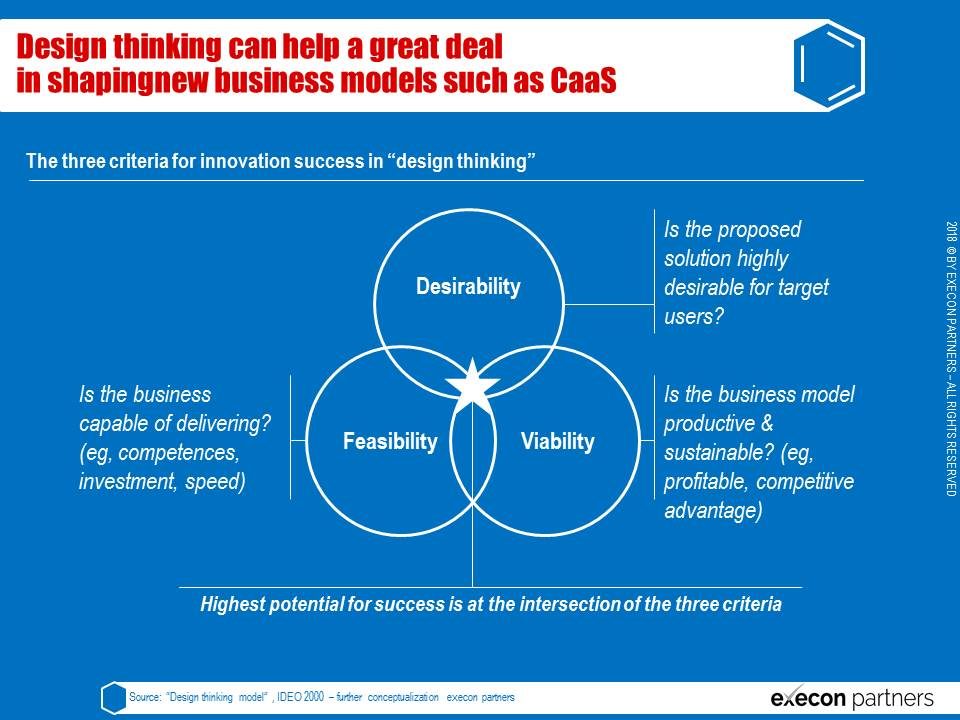 Install robust, formal governance: the traditional combo steering committee + project team works well also here, provided that the project team is sufficiently cross-functional but not too broad (e.g. sales, operations, engineering, finance + further ad-hoc experts, e.g. legal, digital technology). Obviously, team members should have a reputation of leadership and entrepreneurship.
Maintain the process "agile": I believe that agile development, a methodology initially adopted in software development that is now quickly spreading over a lot more applications, can offer a great deal of conceptual help about how to shape a CaaS project – such as engaging with potential customers for early testing, creating soon a minimum viable product (MVP) to test, establishing tight iterations within project team and pilot customers to refine the MVP in all its aspects (functionalities, interfaces, additional services, pricing, etc.). The good thing about agile development is that it offers a solid base to work with complexity, and developing a new business model is a complex affair.
Read also [Download not found]
In a nutshell
While I don´t think that Chemicals as a Service will be the new standard for every chemical company in 10 years from now, I am fairly confident that chemicals servitization will open up new opportunities for many of them and that digital technologies will play a key role in enabling it. The players that will most benefit out of CaaS will be those that will recognize execute their first pilots seamlessly and scale-up quickly and early enough: I expect that first mover advantages – such as technical lock-ins – will play a significant role here as they do in many segments of the digital economy.
For further information contact the author Lorenzo Formiconi via email or phone.
About the author
Lorenzo Formiconi is managing partner at execon partners. He is an expert in operations management and digital transformation, working with clients in the chemical industry since 20 years.
Download
Read also [Download not found]
(Note: only registered users can download the file)